My Team
As a Financial Representative for the Northwestern Mutual, I am committed to helping my clients whether they are concerned for their own financial needs or those of their family or business. I don't do it alone. Here you will find a listing of the people who help make it happen.
Together, we stand committed to providing the best customer service possible. If you have a problem or need assistance at any time, please let us know.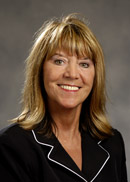 Joanne M Coursin
Associate Financial Representative
Office 814-616-0190 ext. 100

Joanne has been a member of George's team since 1996, giving her 20 years experience working with Northwestern Mutual. Joanne is the backbone of the office, overseeing all aspects of operations for George, and is licensed in Life, Accident, and Health Insurance. Her extensive background in the business field prior to joining George makes her a vital element to the team.
When Joanne is not in the office, she loves staying healthy, exercising every morning before work as well as biking when the weather permits. She also has a passion for traveling.